Trump is going to have to face a dark truth – he is simply running out of options. And as he continues to hope that Republicans can successfully distract America and discredit Robert Mueller, the truth is, his presidency is resting on the edge of a razor.
Indictments and arrests have begun to occur regarding the investigation into Russian tampering with the last U.S. presidential election. As the investigation rolls on, Donald Trump is finding himself bogged down in the mire of a complete mess. Trump's team of "professional" advisers continue to be implicated in collusion and conspiracy with Russian officials regarding information on Hillary Clinton, as well as election related issues. How will Trump find his way out of this mess? Or, will he?
Paul Manafort – former Trump campaign manager – was indicted and arrested for alleged money laundering. Also, George Papadopoulos – a former Trump campaign adviser – has pleaded guilty to the charge of "lying to federal agents" and is currently providing Robert Mueller's investigative team with information on Trump's relationship with Russia.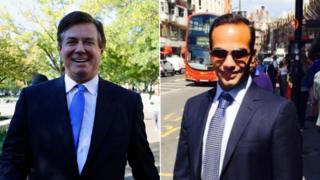 These two former associates of Trump are just the first in what seems like it will be a long line of indictments, arrests, and information gathering operations to expose the wrongdoings of now President Trump. According to Matthew Norman in the Independent, "The flipping of Papadopoulos and prosecution of Manafort look like a violent shake of the tree to find who higher up the chain topples down begging to cooperate to save themselves. If these are the first baby steps on a long and winding road to perdition, what is at stake is something far larger than Trump's survival as President.
It has been brewing for years. What we may be about to witness is the decisive war for ownership of the truth. The exact details of how Trump's campaign colluded with agents of a hostile foreign power to influence a presidential election will be disputed, opaque and confusing to the layperson.
Hoping to create a Russian riddle wrapped in a mystery inside an enigma, Trump will throw up smokescreens. He will try to brazen it out, and keep his approval ratings from a fatal collapse, by bamboozling the American public."
Norman further expounds upon how Trump's relationship with Rupert Murdoch will be vital and essential to Trump surviving the mess he has created. "The only effective weapons left in Trump's arsenal are the gift for using bluster and aggression to fool too many of the people too much of the time, and the fruits of his collusion with Rupert Murdoch's media empire. To that end, he now relies on his and Murdoch's time-honoured capacity for steering credulous minds into a parallel world of altered perceptions, where truth is falsehood and falsehood truth."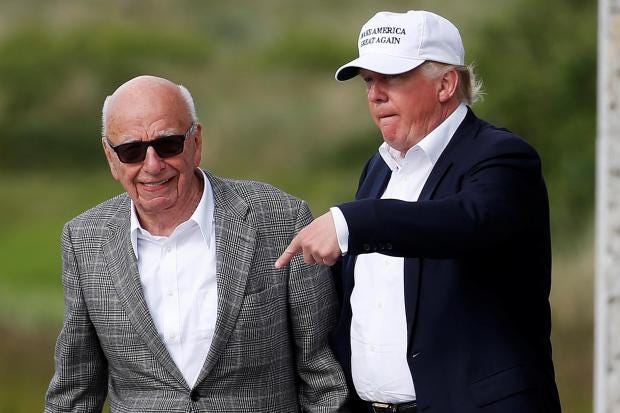 An now the "fake news" will become an ally of Trump. He will try to spin the stories and facts into truths that reflect a good light upon him. Trump has to realize at this point he is fighting for his job. Let's hope he doesn't put up too much of a fight and he quickly goes down…soon!